Yesterday my Daughter and Grandson and her boyfriend were rear ended. Teri and her boyfriend have pulled and torn ligaments in their neck. Isaiah hurt his back but I "think" he is OK now. That remains to be seen. They were all taken by ambulances to the hospital in neck braces and back boards. I beat them to the hospital and went back to the ER right away to be with Isaiah, he is only 4 and he needed me to be with him. Any way when the doctor asked him where he hurt he said "My back and my balls"
The doctor and the nurses tried to not laugh and they did pretty well. I stayed with him, he wouldn't let me leave to go see Teri, he grabbed my hand. They were all in the hallway so I could see her and talk to her. I went with him to x-ray and waited outside the door. The x-ray tech came out to look at the pictures she had just taken to see if they were OK she laughed and told me to come over there... this is what I saw.... I edited the picture to cover his ..ummm...well...... in his words..... balls ROFL
scroll down
He never goes
anywhere
without his Hot Wheel car ROFL it was in his pocket.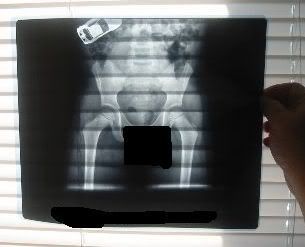 Edited by deb12c, 16 April 2008 - 04:03 PM.